Colossal funding in manufacturing plants by fossil fuel companies will increase plastic production by 40%, risking permanent pollution of the earth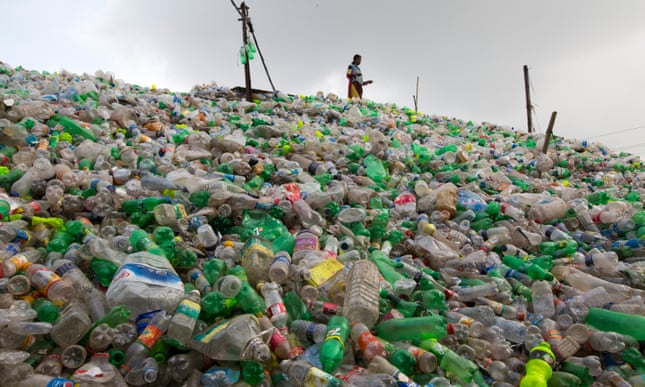 The global plastic binge which is already causing widespread damage to oceans, habitats and food chains, is set to increase dramatically over the next 10 years after multibillion dollar investments in a new generation of plastics plants in the US.
Fossil fuel companies are among those who have ploughed more than $180bn since 2010 into new "cracking" facilities that will produce the raw material for everyday plastics from packaging to bottles, trays and cartons.
The new facilities – being built by corporations like Exxon Mobile Chemical and Shell Chemical – will help fuel a 40% rise in plastic production in the next decade, according to experts, exacerbating the plastic pollution crisis that scientist warn already risks "near permanent pollution of the earth."
"We could be locking in decades of expanded plastics production at precisely the time the world is realising we should use far less of it," said Carroll Muffett, president of the US Center for International Environmental Law, which has analysed the plastic industry.
"Around 99% of the feedstock for plastics is fossil fuels, so we are looking at the same companies, like Exxon and Shell, that have helped create the climate crisis. There is a deep and pervasive relationship between oil and gas companies and plastics."
Greenpeace UK's senior oceans campaigner Louise Edge said any increase in the amount of plastic ending up in the oceans would have a disastrous impact.
"We are already producing more disposable plastic than we can deal with, more in the last decade than in the entire twentieth century, and millions of tonnes of it are ending up in our oceans."
The huge investment in plastic production has been driven by the shale gas boom in the US. This has resulted in one of the raw materials used to produce plastic resin – natural gas liquids – dropping dramatically in price.
The American Chemistry Council says that since 2010 this has led to $186bn dollars being invested in 318 new projects. Almost half of them are already under construction or have been completed. The rest are at the planning stage.
"I can summarise [the boom in plastics facilities] in two words," Kevin Swift, chief economist at the ACC, told the Guardian. "Shale gas."
He added: "There has been a revolution in the US with the shale gas technologies, with the fracking, the horizontal drilling. The cost of our raw material base has gone down by roughly two thirds."
The findings come amid growing concern about the scale of plastics pollution around the world. Earlier this year scientists warned that it risked near permanent contamination of the planet and at a UN environment conference in Kenya this month the scale of plastic in the sea was described as an "ocean armageddon".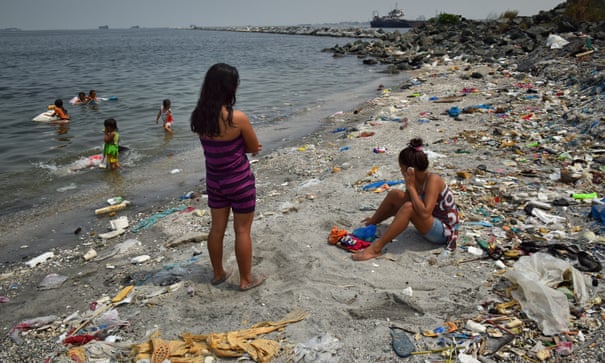 In June a Guardian investigation revealed that a million plastic bottles are bought around the world every minute with most ending up in landfill or the sea. Earlier this month, UK environment secretary Michael Gove said reducing plastic pollution was a key focus, adding that he had been "haunted" by images of the damage being done from David Attenborough's Blue Planet II TV series.
However, campaigners warn that despite the rising tide of concern, powerful corporations are pressing ahead with a new generation of plastic production facilities that will swamp efforts to move the global economy away from single use, throw away plastic products.
Steven Feit, from the Centre for Environmental International Law which has researched the impact of the US shale boom on plastics, said: "The link between the shale gas boom in the United States and the ongoing – and accelerating – global plastics crisis cannot be ignored.
"In the US, fossil fuel and petrochemical companies are investing hundreds of billions of dollars to expand plastic production capacity… All this buildout, if allowed to proceed, will flood the global market with even more disposable, unmanageable plastic for decades to come."
Athough the majority of the new investment is in the US, the impact will ripple outwards in the form of vast new supplies of raw materials for plastics being transported to Europe and China.
Petrochemical giant Ineos has been shipping natural gas liquids from the US to cracking plants in Europe and the UK on huge "dragon ships" for the past year.
Last month the company announced it will ship the first NGLs from the US to China in 2019 where it will be turned into plastic resin at a new cracking facility in Taixing China.
Roland Geyer, from the University of California at Santa Barbara, was the lead author of a study earlier this year revealing that humans have produced 8.3bn tonnes of plastic since the 1950s, with the majority ending up in landfill or polluting the world's oceans and continents. The report warned that plastic, which does not degrade for hundreds of years, risked "near-permanent contamination" of the earth.
He said he was deeply troubled by the expansion in plastic production.
"I am now all but convinced that the plastic waste/pollution problem will remain unmanageable without serious source reduction efforts," he told the Guardian. "Building out production capacity is obviously the opposite of source reduction."
But experts believe the new facilities will lock in an increase in plastic production for years to come.
Matthew Thoelke, executive director at IHS Markit analysts in Germany and an expert in the global chemical industry, said the expansion in the US would be a critical part of a 40% increase in global plastics production over the next decade.
"This will help meet growing demand for plastic in the existing big markets of the US, Europe and China as well as a predicted steep increase in demand in India and south east Asia," he said.
But the American Chemistry Council said the plastics boom had brought huge economic benefits to the US creating hundreds of thousands of jobs and allowing the manufacture of a wide range of important products from medical supplies to auto parts, piping to technology.
Steve Russell, vice president of plastics for the American Chemistry Council also defended the environmental impact of plastic, citing a study from 2016 that found using plastic reduces environmental damage.
"Advanced plastics enable us to do more with less in in almost every facet of life and commerce. From reducing packaging, to driving lighter cars, to living in more fuel-efficient homes, plastics help us reduce energy use, carbon emissions and waste."
Since you're here …
… we have a small favour to ask. More people are reading the Guardian than ever but advertising revenues across the media are falling fast. And unlike many news organisations, we haven't put up a paywall – we want to keep our journalism as open as we can. So you can see why we need to ask for your help. The Guardian's independent, investigative journalism takes a lot of time, money and hard work to produce. But we do it because we believe our perspective matters – because it might well be your perspective, too.
I appreciate there not being a paywall: it is more democratic for the media to be available for all and not a commodity to be purchased by a few. I'm happy to make a contribution so others with less means still have access to information. Thomasine F-R.
If everyone who reads our reporting, who likes it, helps fund it, our future would be much more secure. For as little as $1, you can support the Guardian – and it only takes a minute. Thank you.