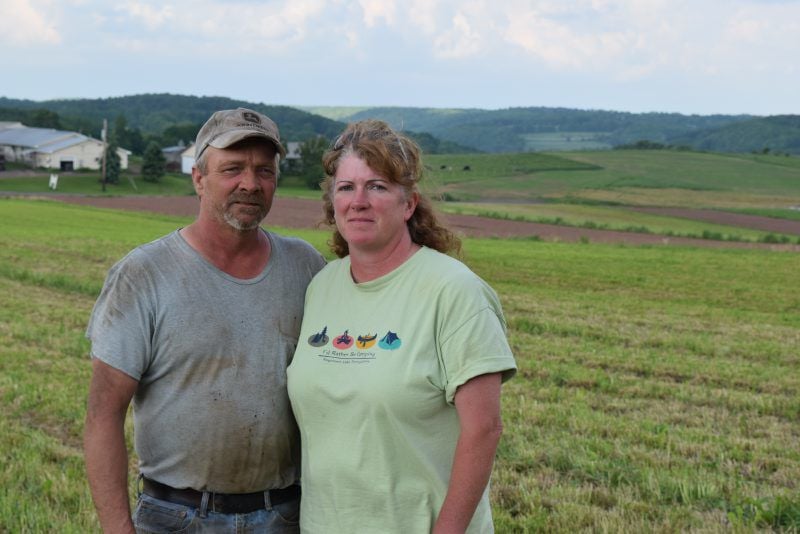 TIOGA COUNTY, Pa. — The cows were dying, and Michael Buckwalter didn't know why.
It was November 2016, and Buckwalter was settling into the dairy farm he'd recently bought in the mountains of Pennsylvania's northern tier.
With a prime location just outside the small college town of Mansfield, Buckwalter had planned to sell his dairy products directly to consumers.
Instead, he found himself in an unusual and terrible situation in the hotbed of Marcellus Shale country.
As the days ticked by two winters ago, his herd's milk production dropped sharply, and the cows' manure became loose and changed color.
Buckwalter called the veterinarian, sent forage samples to the lab and got his water tested, but in a matter of weeks, his cows started dying.
A natural gas well had recently started operating near Slate Creek just upstream from the farm, and Buckwalter began to suspect that effluent from the well was poisoning the water his cows received from the stream.
The next few months only strengthened his suspicions.
A few of the weakest cows were near the end of their lactation, so Buckwalter dried them off and moved them to a pasture upstream of the well pad.
The cows completely recovered within two weeks.
"Cows don't lie. There was something the matter with the water," Buckwalter said.
In January 2017, Buckwalter put a meter on his water line and found that the animals were drinking only 11 gallons of water per cow per day — half to a third of what a cow in milk should be drinking.
Toward the end of the month there was a thaw and lots of rain. The cows drank out of every puddle and ditch they could find.
Milk production spiked by 7 pounds per cow that week, Buckwalter said.
Water tests by the state Department of Environmental Protection identified high pH and iron levels, and aluminum at 10 times the legal limit, he said.
Buckwalter contacted the well owner, Shell Western Exploration Production Inc., but SWEPI didn't remedy the situation.
Instead, he said, the subsidiary of energy giant Royal Dutch Shell attributed the high readings to streambank erosion and referred his environmental questions to DEP.
Shell did not respond to a request for comment for this story.
Citing confidentiality provisions, DEP declined to give Lancaster Farming water test reports from Buckwalter's property.
The agency did provide a redacted list of private water supplies it has determined are affected by oil and gas activities.
No sites in Buckwalter's township are on the list.
Milk production eventually picked up a little in early 2017, but the cows never got back to their old selves.
Buckwalter sold his herd that summer, less than a year after Shell started drilling next door.
"I hated to go out the way we did," he said.
With the cows gone, Buckwalter ended up giving the farm back to its previous owner.
And though Buckwalter and his family still live on the property, nobody drinks the tap water anymore.
"To me there's no taste difference, but cows are a lot more sensitive than we are," he said.
Attorneys told him his evidence of water contamination is too thin to hold up in court, but Buckwalter wasn't done.
He called John Stolz, a Duquesne University researcher whose team has analyzed more than 1,000 water samples for fracking-related chemicals.
Stolz collected water from Buckwalter's section of Slate Creek as well as upstream from the well pad.
The tests confirmed DEP's readings, but Stolz noticed some chemicals that showed up in Buckwalter's water weren't present upstream.
Though that finding doesn't prove Shell was culpable, "it does raise a flag in my mind," Stolz said.
To protect themselves in case of contamination, people should test their water before drilling begins in their area and regularly after that, Stolz said.
His farming dreams dashed, Buckwalter has spent the past year and a half working as a trucker and a tree trimmer.
No Payment
A few mountainous miles to the west, Brian Allen is fighting a very different battle with Shell.
Allen said Shell, despite having a contract and drilling a natural gas well on his property, has never paid him anything.
After years of desperation and back-and-forth, the issue is now in federal court.
SWEPI — which took over East Resources, the company that inked the Allens' contract — argues that the lease was conditional and did not go into effect the moment it was signed.
For the lease to become effective, the gas company had to make a rental payment. No payment, no deal.
But in July 2010, shortly after the lease was signed, the Allens received a check from East Resources for $222,000.
A few days later, before the Allens could deposit the check, they found a shocking note on their screen door:
"Please be advised that a stop payment has been placed on the above referenced check. Said check was issued in error. We ask that you please dispose of the canceled check at your earliest convenience."
The company never replaced the check. To SWEPI, that means the contract is moot.
The Allens say the contract was a promise that Shell would make the rental payment — and that by not paying, the gas company had breached the contract.
Without the rental payment, the Allens fell behind on their mortgage and filed for bankruptcy protection in 2012 to avoid a foreclosure.
Hard feelings simmered as the Allens kept seeking payment, unsuccessfully, and as SWEPI eventually decided to close the well.
Dale Allen, the family patriarch, went to a Shell open house in October 2017 to ask whether the family would be paid before Shell closed the well, but he lost his temper.
"I told them if they come on that pad, without paying us, to close it down, that I would blow that pad. And I meant with liquid manure," Dale said. "And they turned right around and told the judge I said 'blow up.'"
Spraying manure would be consistent with a July 2014 incident in which Dale threw manure on two people and their vehicles who he said were blocking access to a field, apparently because they didn't like the manure spreading.
Shell took "blow" in a different sense of the word. In court, the company presented a Facebook post in which Brian Allen mentioned an explosive called Tannerite.
The explosive, which Brian uses at an end-of-summer target shoot at the farm, is designed to go off only under intense pressure, such as from a bullet.
At SWEPI's behest, Brian said, several State Police officers and a bomb-sniffing dog showed up to make sure the Allens hadn't sabotaged the well pad area with Tannerite.
That would be a dumb thing to do, not least because the gas company's machinery would be unlikely to detonate the explosives, Brian said.
Also, when SWEPI wanted to close the well, the company timed the negotiations for when the Allens' attorney was about to go on a mission trip to Guatemala.
The Allens are not the only ones who have challenged SWEPI over payments.
In April, a federal judge ruled that the company had shortchanged western Pennsylvania landowners, though that class-action suit is not over.
The Allens have fared less well.
On Nov. 8, a federal judge dismissed the Allens' lawsuit with prejudice, meaning they can't file a new suit on the same grounds.
The Allens are challenging that ruling.
Brian still raises corn, soybeans, hay and wheat, but he's running himself ragged with off-farm work — excavation, welding, heavy equipment operation.
The dairy herd had dwindled from 200 cows to just 20 before Brian stopped milking a month ago. He's now planning to put in beef cattle.
"We're killing ourselves just trying to hold onto the farm," Brian said.
Brian and Mary Kearns-Miller, his partner of 12 years, also run an on-farm event venue, but Brian doesn't want Kearns-Miller to be on the hook for the farm's albatross of financial problems.
"We don't even dare get married," he said.
Since the Allens bought the farm in 1965, they've overcome a barn fire and stray voltage issues with the cows.
But after the grappling with SWEPI and a renewed threat of foreclosure from the bank, this year has been particularly tough.
"If this foreclosure were to go through, it'll displace five generations," Kearns-Miller said in June.
The family has since decided to sell acreage and settle with the bank.
"I can't do it anymore," Brian said.
He estimates the family has lost $1.5 million through its ordeals.
And while he wants to put the last 10 years behind him, Brian also vows to be a thorn in the side of those he believes have undermined his family's farm.
Source:  
LINK:  https://www.lancasterfarming.com/news/main_edition/shell-shocked-conflicts-with-gas-company-push-farmers-toward-ruin/article_35df6869-34c9-54bb-b5de-6103fdb8e748.html