---
But it can be hard to understand what all these data points look like on the ground, and what can be done to avoid the scariest numbers. That's why universities, nonprofits and businesses have started creating tools to help non-experts interact with their findings.
"Research shows that showing people research doesn't work," leader of the MIT Sloan Sustainability Initiative John Sterman said.
Instead, these tools help people conduct research of their own.
1. En-ROADS Lets You Choose Your Own Climate Future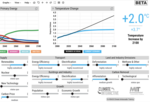 MIT technology powers new, accessible climate solutions simulator
Online interface simulates 100 years of energy, land and climate data in less than one second to identify solutions to limit warming to within 2 degrees Celsius by 2100
Dec 03, 2019
Read Article
The latest tool to drop is the En-ROADS climate solutions simulator, a joint project launched Tuesday by the Sustainability Initiative at the MIT Sloan School of Management and nonprofit think tank Climate Interactive. The simulator is free and easy to use, and allows anyone to assess the impact of different climate solutions in less than a second.
En-ROADS presents users with two graphs, one showing current energy sources and one showing projected temperature changes by 2100. Business-as-usual has us on track for 4.1 degrees of warming by century's end, according to the simulator. But below the graphs are a series of policy choices: subsidizing or taxing coal; decreasing or increasing energy efficiency in buildings; encouraging or discouraging deforestation. By moving the cursor away from the status quo and towards either less or more ambitious climate policies, users can watch the projected temperature increase rise or fall.
"Powerful simulators have fueled climate wonks for decades," Climate Interactive co-founder and co-director Andrew Jones said in a press release. "This one works for users ranging from corporate CEOs and policy makers to smart eighth graders."
2. Virtual Planet Helps Coastal Residents Plan for the Flood

Sea level rise is one of the most talked-about impacts of climate change, but estimated average increases don't tell coastal dwellers what it will look like in their communities.
That's why the start-up Virtual Planet is developing virtual reality (VR) simulators to help coastal communities make decisions about their future, according to The Smithsonian. Developer Juliano Calil built the first model of his current home of Santa Cruz, California, NPR reported. It is now on display at the downtown branch of the Santa Cruz Public Library, according to The Smithsonian. The team designed another simulation for Turner Station in Baltimore, Maryland to help the community decide on a project to dredge material from the harbor to build up low-lying areas. Another is in the works for Long Beach, California.
So far, VR users are shown a birds-eye view of their hometown and can slide right to watch water levels rise up to six feet. But Calil hopes to build a model that would also show what happens after various solutions are implemented. Even the current model is making an impact on viewers, however.
"You hear about global warming and the effects of it, but to really be able to see it in real time is an eye-opener," Eric Johnson, pastor of the Turner Station Union Baptist Church, told NPR. "It shows you this is something we needed to work on, like, yesterday."
3. Climate Central Helps You Screen Your Flood Risk
As a result of heat-trapping pollution from human activities, rising sea levels could within three decades push chronic floods higher than land currently home to 300 million people
By 2100, areas now home to 200 million people could fall permanently below the high tide line
The new figures are the result of an improved global elevation dataset produced by Climate Central using machine learning, and revealing that coastal elevations are significantly lower than previously understood across wide areas
The threat is concentrated in coastal Asia and could have profound economic and political consequences within the lifetimes of people alive today
Findings are documented in a new peer-reviewed paper in the journal Nature Communications
While VR may be more immersive than two-dimensional visualizations, it is also less accessible.
If you can't get to a Santa Cruz library or a Turner Station community meeting, Climate Central has you covered. The nonprofit's Coastal Risk Screening Tool shows you whether your home is likely to fall below the yearly flood level this century, no matter where you live. The tool includes a map and satellite view, and users can zoom in on particular locations to see their risk. They can also see what flood levels are projected depending on the year (from 2030 to 2100), degree of carbon pollution and luck.
The map is based on a study released by Climate Central in October, which showed that sea level rise posed a greater risk this century than previously believed, because traditional elevation readings had included the tops of trees and buildings. When it used machine learning to correct for this error, the study found as many as 300 million people could be impacted by annual flooding by 2050 if emissions are not reduced.
"These assessments show the potential of climate change to reshape cities, economies, coastlines and entire global regions within our lifetimes," lead study author and Climate Central senior scientist Scott Kulp told The Guardian at the time.
With the Climate Central risk screening tool, anyone can now explore that potential for themselves.