One year ago, on September 24, 2015, a new company owned by billionaire Terry Pegula — JKLM Energy — announced that it had contaminated private drinking water supplies while *drilling for natural gas in Potter County, Pennsylvania.
The threat of contamination reaching nearby public water sources forced the shutdown of two public water systems and began what is known as the "North Hollow" investigation.
"Two of four water supplies at Charles Cole Memorial Hospital were removed from service" on September 23rd due to possible impact according to records obtained by Public Herald.
Local officials were swift to note that both public drinking water systems – Coudersport Borough Water Authority and Charles Cole Memorial Hospital – were shut off on September 23 as a "safety precaution" reassuring concerned residents that "no impact" had been detected at those supplies.
On October 27th, The Bradford Era reported that Potter County Commissioner Paul Heimel "hope[d] to clear up 'erroneous reports' claiming those [public] water sources were polluted by the spill…"
As of today: at least six treatment systems have been installed on private water supplies in North Hollow, one of the two public water systems are back online, and JKLM is currently drilling new wells less than a mile away from the contamination.
However – the investigation is not over.
Public Herald has uncovered evidence that, from the very beginning, JKLM Energy and DEP officials knew contaminants were detected in public drinking water, but told no one.
In 2015, an October 7th email to JKLM representatives obtained by Public Herald, PA DEP Program Manager Jennifer Means wrote:
"We…noticed the detects of MBAS and acetone in the hospital spring, and BTEX in Coudersport's Well 1, but recognize that these water sources have been off-line."
From the start, JKLM referred to the injected "surfactant"— f-485 — as "soap" and told the public that the "primary chemicals of concern" were MBAS (methylene blue activated substances), isopropanol, propanol and acetone. [Read Public Herald's previous report to find out more about the health implications of f-485.]
On September 29th a JKLM press release concluded by mentioning that the company had begun "investigating" the use of "Rock Oil," but there was no explanation about why Rock Drill Oil was a concern or what specific chemicals it might contain.
It seemed that not even JKLM knew what JKLM had pumped underground.
Photo from PA DEP inspection report showing chemicals used by JKLM Energy during the contamination of drinking water supplies in Potter County, Pennsylvania.
The company's September 29th press release included details about tests for five private water supplies and a pond where contaminants surfaced 2.8 miles away from JKLM's gas well. But it never mentions water tests collected the very same day that showed BTEX in Coudersport's public water well and MBAS and acetone in the hospital's spring.
In fact, JKLM made no mention of BTEX in any of their 16 press releases regarding the North Hollow investigation.
It wasn't until a December public meeting (three months later) that PA DEP revealed, for the first and only time, that BTEX had contaminated private water supplies.
BTEX — benzene, toluene, ethylbenzene and xylene — are a group of carcinogenic compounds that can damage human health. The chemicals are often in fluids for fracking, and have been detected at high volumes returning back to the surface as 'flowback' — or wastewater — according to studies from US EPA and Environmental Health Perspective (EHP).
At the December meeting, DEP's Geologist Bill Kosmer told the public that the agency tested the borough's well, but "no evidence of impact to public water supplies" existed.
No one at the meeting from DEP mentioned the presence of BTEX in Coudersport's Well 1 from the September test results.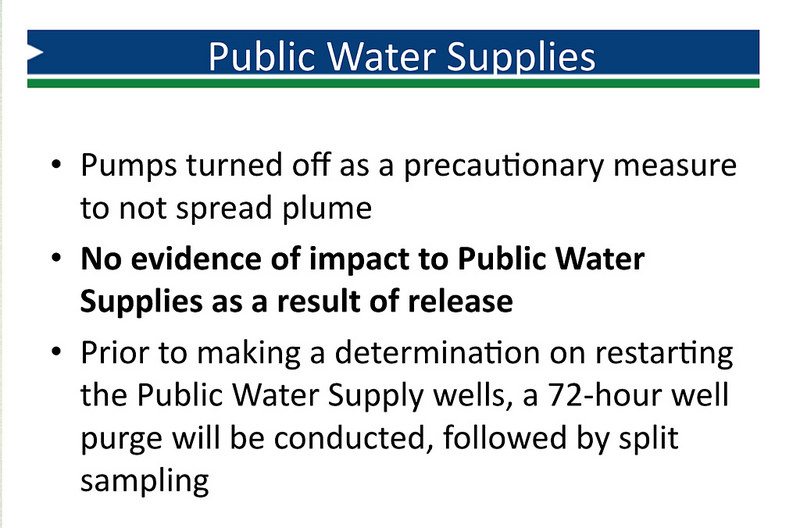 PA DEP declares no impact to public water supply in Potter County powerpoint presentation despite detection of drilling pollutants in water tests after contamination of groundwater.
DEP's Community Relations Coordinator, Daniel Spadoni, did not return Public Herald phone calls for this report. Jennifer Means, when reached by phone, stated that policy prevented her from answering questions with media and promptly hung up.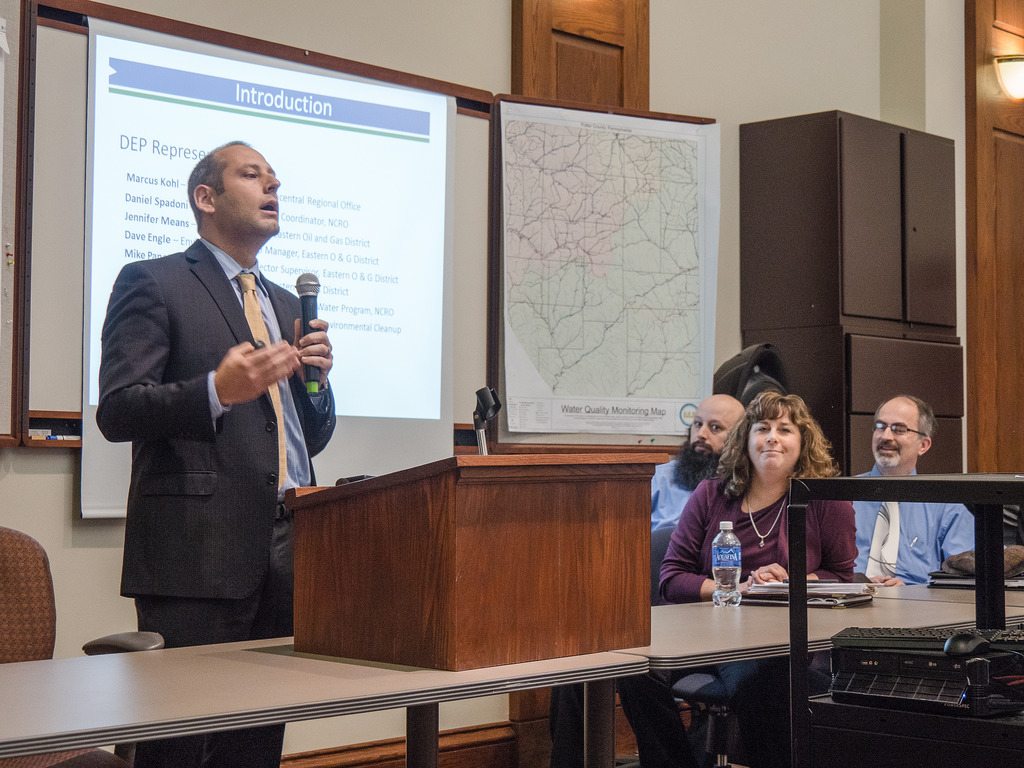 (Left to right) DEP North Central Regional Director Marcus Kohl introduces the ongoing investigation of September 2015 drinking water contamination by drilling company JKLM Energy in Potter County, Pennsylvania. DEP Geologist Bill Kosmer, Program Manager Jennifer Means, and Environmental Cleanup Manager Randy Farmerie wait to present.
The Public Trust
"Public trust states that the government is a trustee to protect these natural resources — air, water, land…protect them for this generation and for many generations down the line." ~ Kelsey Juliana on Moyers & Company's final broadcast
It took state regulators five months to release a statement about the condition of Coudersport's public water supply. DEP's brief press release left out specific parameters of which contaminants were detected during its investigation and gave Coudersport the "ok" to resume serving water from Well 1:
"The results of sampling done in late December by DEP and the authority indicate all drinking water parameters are well below maximum contaminant levels or were not detected," DEP Regional Director Marcus Kohl said. "All other parameters were not detected or at minute safe levels."
What DEP chose not to report is that BTEX was detected in Coudersport's public water supply in September at levels two to four times higher than amounts found nearby in private water where DEP determined the water had been impacted by JKLM.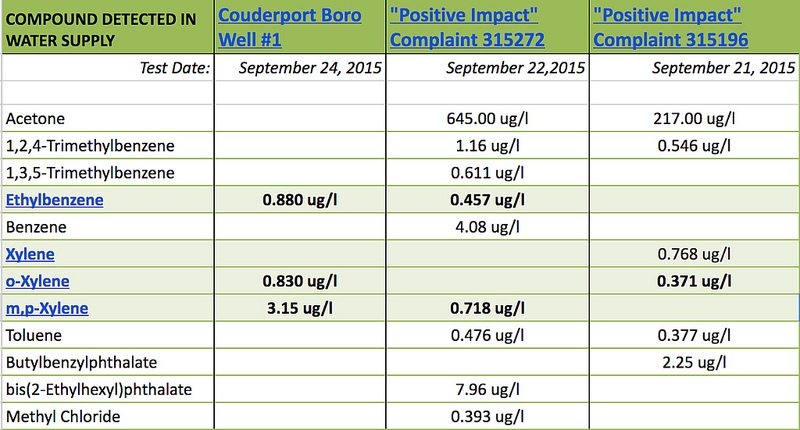 Protecting The Public Trust
Potter County is governed by three county commissioners – Paul Heimel, Doug Morley and Susan Kefover – who led the aforementioned public meeting in December hosted by the Natural Gas Task Force to inform concerned residents.
At that meeting, public participation was limited to questions written on notecards, then promptly ended after Public Herald pressed JKLM about BTEX and the "detailed chemical analysis" of trade secret drilling fluids that the company refused to make public.
To find out how the county commissioners felt about the drinking water contamination and new drilling by JKLM one year later, reporter Sierra Shamer made several unsuccessful calls to the County Commissioner's Office but reached Commissioner Heimel on his cell phone.
"It's not my place to try to make a judgement on the company's response and whether it was fully compliant, whether it was above and beyond the call of the legal requirements," Heimel told Shamer. "I'm not in a position to judge it, because I haven't been directly involved."
But why wouldn't a local public official, whose duty is to inform and protect the public trust, not be directly involved addressing the contamination of county drinking water?
Heimel went on: "There are a lot of scientific and technical and legal aspects involved that I wouldn't be in a position to judge, right?"
But DEP is in the position to judge JKLM. So Shamer asked Heimel, "Do you think [DEP] did their part in the investigation?"
"I would give the same answer," Heimel replied. "From my very limited perspective, I haven't seen any glaring examples of any shortcomings."
But Public Herald has published a laundry list of shortcomings:
Still, it seems that just the right people dotted and crossed just the right letters of the law so that, at the end of the day, everyone can say – they did everything they (legally) needed to do.
However, doing the bare minimum of what's considered legal can still leave elected officials open to violations of the Public Trust.
In a landmark public trust decision, Chief Justice Castille of the Pennsylvania Supreme Court upheld the court's ruling to strike down a statute the Pennsylvania Legislature passed in 2012 to promote fracking which would have banned a community's right to limit drilling.
As recalled by Mary Christina Wood in an interview with Bill Moyers, a law professor at University of Oregon:
"Chief Justice Castille began his opinion by saying that citizens hold inalienable environmental rights to assure the habitability of their communities." http://billmoyers.com/episode/full-show-climate-crusade/ (11:00)
Yet, despite their own definition, DEP never issued a positive determination of impact to the East Well 1 public drinking water supply or the hospital's spring.
When Public Herald asked for more clarification regarding the public water supplies earlier this year, DEP Press Secretary Neil Shader replied via email, "The department has no further comment at this time."
Although testing is reportedly ongoing, no full test results have been made public by the Department, JKLM Energy, Charles Cole Memorial Hospital, or the Coudersport Water Authority for public water.
Public Herald made a formal Right-to-Know request via email to Charles Cole Memorial Hospital earlier this month for water quality testing of the hospital's public water supply. Director of Maintenance and Engineering Melvin Blake responded with a letter from the hospital's attorney's denying Public Herald's request for test results dated September 20, 2016:
"My client [Charles Cole Memorial Hospital] will not consider your request."
– Elliott J. Ehrenreich, KNOX McLAUGHLIN GORNALL & SENNET, P.C.
Neither Blake nor hospital press contact Dawn Snyder responded to Public Herald's question about why the hospital public water supply is still offline.
In 2015, Charles Cole Memorial Hospital leased with JKLM Energy to frack for natural gas on hospital property. According to Endeavor News, Cole Memorial Hospital received "an initial payment in excess of $1 million" from the deal.
Federal Agency Begins Public Health Consultation
In North Hollow, JKLM, PA DEP, and the Pennsylvania Department of Health have been aware of residents' health complaints related to water contamination from JKLM's operations.
But inside DEP permit records, JKLM stated that one resident "experienced gastrointestinal issues possibly associated with water use…"
In October, another health complaint was reported – a resident who suffered from headaches and stomachaches during the time they noticed their water looked cloudy and brown.
The full chemical composition of the unapproved fluids JKLM Energy pumped underground is still unknown. That's why Barr contacted ATSDR in February.
"Residents have not had their health related questions answered and received very little information on proprietary chemicals that are in the aquifer," Barr said. Health concerns have not been mentioned by either DEP or JKLM publicly.
Unlike DEP, the ATSDR conducts an investigation through the lens of public health, typically upon the request of the EPA, state, or an individual citizen, the ATSDR will conduct a public health consultation when warranted.
Similar to North Hollow, ATSDR was called in to investigate water contamination cases in Dimock, Pa. following residents continued concerns. Their conclusions in Dimock turned out to be more alarming than what US EPA or PA DEP led the public to believe.
For North Hollow, they've reviewed DEP data published by Public Herald and records from the Department of Health (DOH). ATSDR does not conduct their own water sampling during a consultation.
"We rely on regulatory agencies, and other sources of valid, laboratory, environmental data….Our approach is to include the community, so if there's others that want to reach out to us and they have data and they want to share it… we're open." — Robert Helverson, ATSDR
Residents with information or concerns can contact the ATSDR office:
Robert H. Helverson, MS, Region 3 Representative, Division of Community Health Investigations (DCHI), Agency for Toxic Substances and Disease Registry (ATSDR), Centers for Disease Control and Prevention (CDC)
1650 Arch Street (3HS00)
Philadelphia, PA 19103
(215) 814-3139 (Office)
(215) 814-3003 (Fax)
email: gfu6@cdc.gov
The ATSDR is not a regulatory agency who can hold companies responsible for fines and penalties. It would be up to DEP, EPA or the public's discretion to act on ATSDR's conclusions.
So far, the U.S EPA has been "hands off" in the investigation of drinking water contamination in Potter County.

In December 2015, JKLM personnel reported at a public meeting that, "in view of the geologic characteristics revealed as a result of this incident, JKLM has no plans to drill any wells in that area."
A few months later, JKLM began applying for new permits to drill in North Hollow.
Since May, DEP has approved ten new permits for JKLM to drill in North Hollow, despite the agency's ongoing investigation, and 12 new permits for other areas of Potter County. PA DEP has issued four violations to JKLM, but all violations remain unresolved and no fines are yet levied.
JKLM drilled four of new wells at "Reese Hollow 117" in July, and just started drilling the remaining six permitted wells on "Reese Hollow 115" this past Thursday.
The proximity of the company's new wells to several water sources contaminated during drilling in September 2015 is making some residents nervous.
Bob Long lives in North Hollow and shared with Public Herald the health problems he experienced after JKLM's contamination of local water wells which, he says, the hospital attributed to bacteria.
Long is not convinced that new drilling in North Hollow is without risk. "As much land as there is in Potter County, why would you drill that close to pristine trout waters, headwaters…it doesn't make a lot of sense.
"Do we really believe that we can go miles under the earth and frack the wells with no consequence? I don't believe anyone is that naive."