Since 2004, when the controversial process known as "fracking" began in Pennsylvania, over 4,100 drinking water complaints related to oil and gas operations have been reported to the Pennsylvania Department of Environmental Protection (DEP).
But as Public Herald reported in January, DEP has determined that a shocking 93% of these water complaints are not related to oil and gas activity.
The discrepancy between the number of complaints and the Department's confirmed cases begs the question – Why is DEP saying oil and gas isn't to blame for so many complaints?
DEP has not responded to Public Herald's questions about this discrepancy.
A number of speculative reasons have been offered by the industry, academics, and are parroted by mainstream media: farming chemicals, road salt, and the lack of private water well regulations. However, these factors have been present since before 2004 and therefore do not explain the rise in citizen complaints.
What's new is fracking, a technology that requires massive quantities of trade-secret chemical solutions pumped underground with intense pressure to break apart bedrock and release fossil fuels. And in January 2017, Public Herald found that citizen complaints have increased alongside unconventional fracking wells since 2004.
Could there be another explanation for DEP's 93% discrepancy?
Since 2011, Public Herald has accumulated evidence that the Department either fails to follow the law or cannot properly address water contamination when it occurs.
After reviewing DEP complaint investigations, we found the Department violated Title 58, Section § 3218 of Pennsylvania's Oil & Gas Law, which mandates the "Protection of Water Supplies."
In 178 cases, the Department's actions can be characterized under three types* of official misconduct – malfeasance (breaking the law), misfeasance (wrongful actions) and negligence (careless behavior).
For this investigation, our team analyzed 1,000 of DEP's 4,108 drinking water complaints. The 178 cases of misconduct are available for public review in this online spreadsheet, which includes the names of the DEP inspectors and supervisors responsible for each case.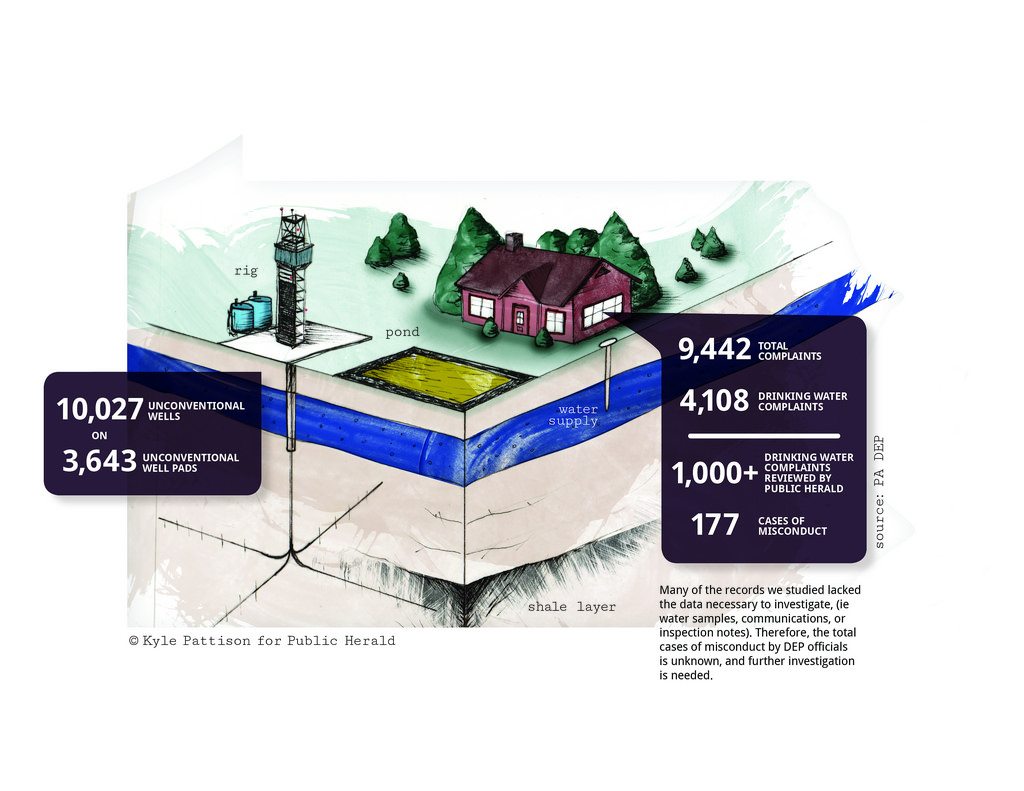 Imagine that you have a private water supply, and, one day after a nearby fracking operation, your water turns brown…or black…bubbly…or foamy.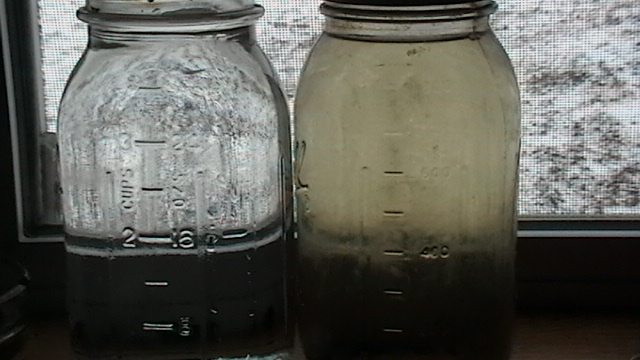 You call the Department of Environmental Protection, who is required by law to document your complaint and investigate "within ten days." At that point, the law states "the department shall…make a determination within 45 days."
If DEP determines your water supply is in fact impacted by nearby oil and gas operations, you become one of the 7% of complainants who receive a "positive determination." The Department is then supposed to send you a determination letter.
This letter is made public and added to an online list documenting "cases where DEP determined that a private water supply was impacted by oil and gas activities…both conventional and unconventional…"
If DEP determines your water supply was not impacted by oil and gas operations, the Department closes your complaint.
Over the past five years, Public Herald has interviewed hundreds of families who have had similar experiences with DEP.  In Angela Smith's story, several problems with the way DEP handles water complaints are highlighted.
In some cases, it is clear that DEP staff find problems with drinking water, but can't link it to nearby oil and gas operations. But in far too many cases, DEP finds evidence and then ignores it, refuses to investigate, or engages in other forms of official misconduct.
In 2014, Pennsylvania Auditor General Eugene DePasquale released a performance audit of DEP outlining several problems with how the Department handles its water contamination investigations. One of the Auditor General's findings concerned determination letters:
"Water quality investigations that continue for months without a determination are inconsistent with statutory and regulatory provisions and are a serious impediment to complainants' quality of life…DEP should ensure that clear and understandable 'determination letters' are always issued to complainants in water supply investigations and in a manner that does not allow for misinterpretation."
In their response to the Auditor General, DEP acknowledged the importance of mailing determination letters to residents. DEP claimed that there were only a "few instances" when determination letters were not sent and that "these isolated instances are not indicative of the Oil and Gas program."
After a closer look, DEP's claim that they rarely fail to send determination letters is deceptive.
Between February 2007 and October 2012, DEP resolved 1,978 complaints but only provided 973 letters to Scranton Times-Tribune for the newspaper's Right-to-Know (RTK). This means over 1,000 determination letters were unaccounted for during that time period. Either the letters didn't exist, or DEP failed to provide them for the Right-to-Know.
During Public Herald's file reviews in 2016, the staff at the DEP Southwest Regional Office could only produce a small number of determination letters for 1,167 water complaint investigations.
Based on the problems we experienced and the available data, failing to send determination letters is not isolated to a "few instances," and families have been robbed of information about their drinking water.
When a DEP inspector investigates a water supply complaint, they are supposed to do so using scientific methods. Bill Cosmer, a professional geologist at DEP, explained to resident Christine Pepper during her complaint about what a comprehensive investigation looks like:

But, in some complaints, DEP staff failed to thoroughly investigate. This is evident both in the complaint records and first hand accounts from residents with investigations.
DEP fails to conduct comprehensive water sampling: Because fracking involves a host of chemicals, a reasonable, scientific approach would include testing for volatile organic compounds (VOCs) and BTEX (benzene, toluene, xylene, ethylbenzene) according to Duquesne University's Dr. John Stolz, who has conducted extensive water testing related to fracking. Examples include #302947, #280927, #269441, #288420.
In the following video, DEP inspectors visit a complainant's home but choose not to sample the water. Instead, inspectors check for methane gas but explain that such a reading doesn't show dissolved methane in the water. In other cases DEP did not find combustible gas in the 'glass trick' as seen in the video, but detected it in the water sample sent to a laboratory. (Video: Case #313290)
In this video by journalist Julie Dermansky, a DEP inspector explains that he samples for whatever seems right at the time, rather than doing a comprehensive set of testing.
The Department is not operating with full transparency. Our investigation has found that DEP fails to disclose all water contamination impacts to the public and chooses to apply the bare minimum effort required by law.
DEP shreds "non-impact" complaint records after five years, according to the Department's "special handling" retention policy and does not create a backup (PDF, microfiche) of records. Other files at the Department are kept for up to 100 years.
DEP does not list all positive determinations on their website. Public Herald has found 49 cases of water supply contamination related to oil and gas activities that have been confirmed by DEP, but not listed on their website. DEP failed to produce 18 of these 49 cases for Public Herald's record requests.
The Department has disclosed that 284 private water supplies have been impacted by "both conventional and unconventional drilling activities." DEP also states that the list is "intended to identify historic water supply impacts." Their description gives the impression that all confirmed cases are included in this list. But this is not true.
If DEP included the additional 49 cases of confirmed impact, that would increase the total number to at least 333. But as clearly demonstrated by this report, even that is far from the total number of drinking water supplies impacted by oil and gas operations across the state.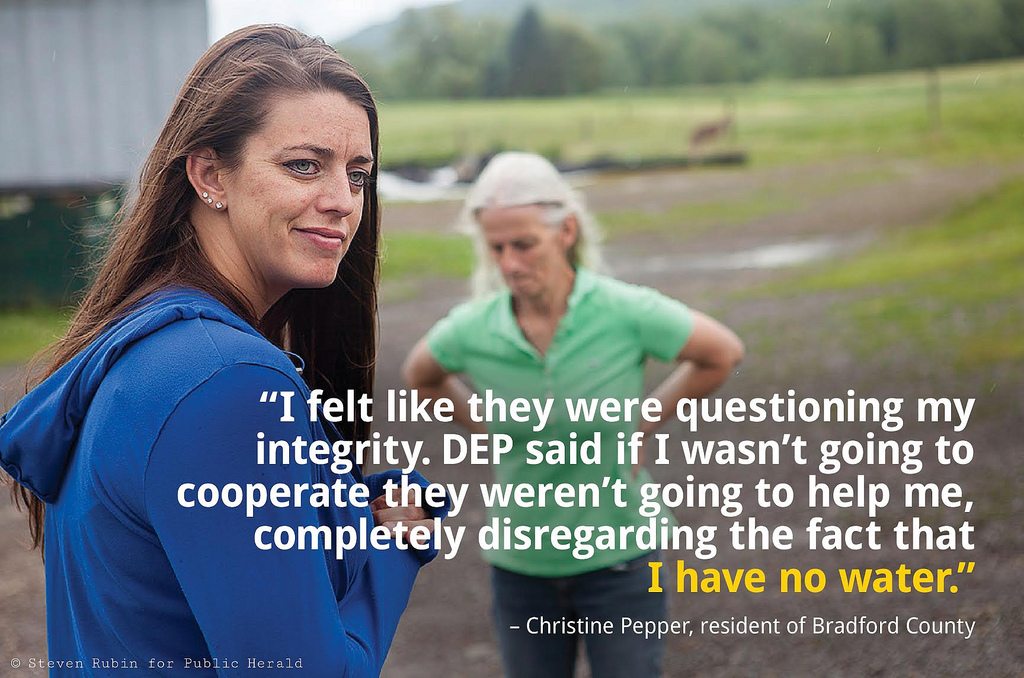 While the evidence of DEP's misconduct may invoke feelings of futility, it's important that citizens who experience problems continue reporting them to the state. Citizen complaints are invaluable for tracking potential impacts over time.
According to Dr. John Stolz of Duquesne University, even if you feel you can't trust the Department, you still need to 'call in the complaint…and test the system.'
If unsatisfied with DEP's determination, residents have 30 days to appeal. This is another reason it's so important that DEP send determination letters.
According to attorney John Smith, who has litigated on behalf of several residents with water contamination in Pennsylvania, "If DEP never sends the determination letter, the resident has no written proof of when the 30-day clock starts."
The inspectors and supervisors who handle complaint cases do so under the leadership of their regional directors, Oil & Gas Deputy Secretary Scott Perry, and DEP's Acting Secretary Patrick McDonnell. When faced with criticism in the past, DEP spokespeople like Perry and Neil Shader have consistently told the press and public that staff and budgetary constraints prevent the Department from doing its job.
While budgetary constraints may be an excuse for failing to improve information technology or inspect every one of the 10,000 unconventional wells throughout the state, our complaint review has found no evidence suggesting that budgetary shortfalls are to blame for ignoring and abusing the law.
Whatever the reasons for DEP's misconduct, the consequences are far too real for families who lose their drinking water, their home, or their health.
Instead, state officials insist that fracking is safe for Pennsylvanians. Governor Wolf is once again calling for a severance tax, which might help fill the hole in DEP's budget. But a tax won't address the cultural problems at DEP, or the mishandling of complaints at the expense of people's water and well-being.
When the citizens of Flint, Michigan noticed problems with their water and health, they called their local and state officials for help. However, these concerns were brushed aside, ignored, or downplayed.
But when the truth came out about the Flint water crisis, Michigan Attorney General Bob Schuette, quickly and firmly brought criminal charges against the officials responsible.
"The victims are real people, families who have been lied to by government officials and been treated as expendable," Schuette states on his website.
"But when our investigation is completed and our prosecutions are successful—and we believe they will be—then accountability and justice will be delivered to families of Flint."
Among those charged with felony and misdemeanor crimes in the Flint water crisis were several current and former staff of the state's Department of Environmental Quality, Michigan's equivalent of DEP.  One of these officials is the former Chief of the Office of Drinking Water & Municipal Assistance, Liane Shekter-Smith, who was responsible for properly addressing citizen complaints:

DEP is not an amorphous public agency without accountable parties – it has a body of administrators, regional directors, oil and gas program managers, inspectors, and supervisors who are responsible for decisions that affect the public's well-being.
The Department also operates under the leadership of Governor Tom Wolf and the laws set forth by the Pennsylvania Legislature.
In January, Public Herald asked the office of Pennsylvania's new Attorney General, Josh Shapiro, whether he has the jurisdiction to hold specific public officials accountable for actions in the same way Attorney General Schuette did in Michigan.
Director of Communications Joe Grace replied via email that, "By law, the Office of Attorney General has authority to investigate state officials or employees for criminal conduct affecting the performance of their public duties, whether the matter involves the environment or any other issue."
Attorney General Shapiro campaigned on the promise to hold the oil and gas industry accountable for impacts in Pennsylvania.
But when it comes to investigating potential polluters, Shapiro only has limited jurisdiction. Grace wrote:
"The Office of Attorney General's jurisdiction is governed by the Commonwealth Attorneys Act.  By law, OAG can only investigate potential environmental crimes that are referred to it by a District Attorney or a Commonwealth agency, such as the Department of Environmental Protection or the Department of Conservation and Natural Resources. Attorney General Josh Shapiro has made stronger collaboration with district attorneys and Commonwealth agencies such as DEP a priority to protect the people of the Commonwealth."
At his inaugural address, Shapiro had strong words that might shine a bit of hope into the dark corners of this report:
"Anyone who tries to roll back your rights will have to go through me. I won't be afraid to stand up to anyone, from the President of the United States to a multinational company, to a drug dealer on the street corner."
Public Herald will be formally presenting this report and our body of evidence to the Attorney General in the near future.
In the meantime, anyone can submit inquiries to the Office of Attorney General by calling 717.787.3391 or by filling out the contact form here and citing this report http://publicherald.org/fracking-misconduct/.**